MILDEX OPTICAL INC.
Introduction
---
Mildex Optical Inc. is a publicly traded company incorporated on May of 2005. We are a touch screen manufacturer with certifications including but not limited to IATF-16949,ISO-9001,ISO-14001,CNS 15506.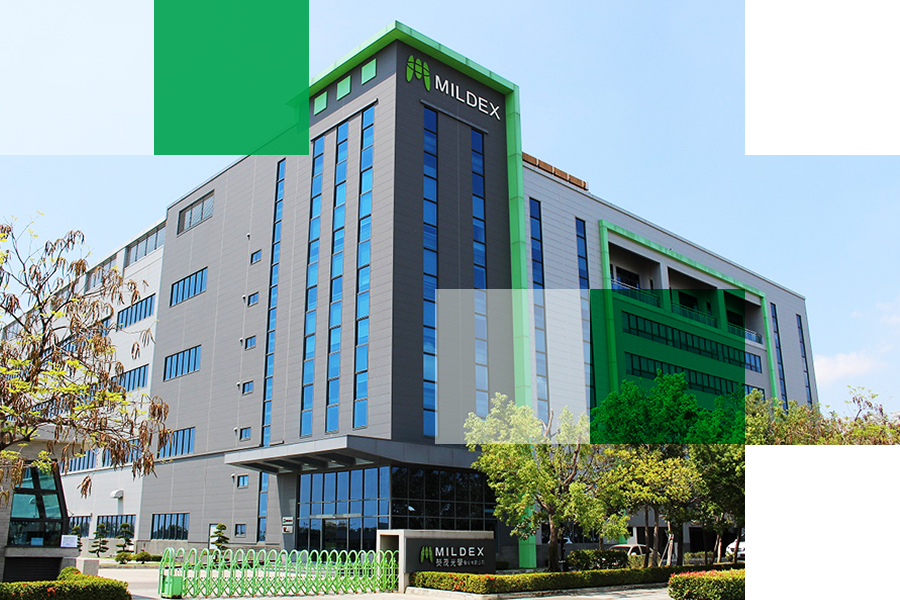 Core Values
Business Concept
---
Mildex upholds firmly in running the business with the principles of 3S's: Symbiosis, Superiority, and Sustainability.
---

Symbiosis
---
Mildex believes in building a vision with like-minded partners and creating beneficial opportunities with each other. Our aim is not only to have all business partners, but the society and the environment as a whole to thrive together simultaneously.

Superiority
---
With insistence on professionalism and dedicated services, we turn normalcy into superiority for our customers.

Sustainability
---
Through symbiotic partnerships and the continuous drive for professionalism, we establish a firm foothold in Taiwan with an ever-growing vision across the globe.
Customized Services
Vertically Integrated Technology
---
Mildex provides customers fully customized services for different fields of applications. Given our solid experience and core technology, we pride ourselves in providing one-stop shop services for full optical bonding of touch screen panels and LCDs modules.
2005

Mildex Optical Inc. Established

2005

Acquired ISO 9001 Quality Control System Certification

2006

Mildex Optical Inc. USA Established

2007

Invested in the Touchscreen business

2009

Stock Listed Publicly on the Taiwan Stock Exchange

2011

Acquired ISO 14001 Environmental
Management System Certification Acquired ISO 45001 Professional Health & Safety Management System Certification (Originally OHSAS18001)
Acquired CNS 15506 Taiwan Professional Health & Safety Management System Certification (Originally TOSHMS2007)

2011

Set up office in Taipei

2017

Manufacturing factory established in Kaohsiung Science Park
(Southern Management Bureau)

2018

Optical Bonding Production Line established

2019

Received the Exemplary Award for Corporate Workplace Equality

2020

Certified for IATF 16949 Automotive Industry Quality Control System